IC Bémimi's Lunatic, ♀ Sozami's Luna x ♂ AK-Esben
NFO n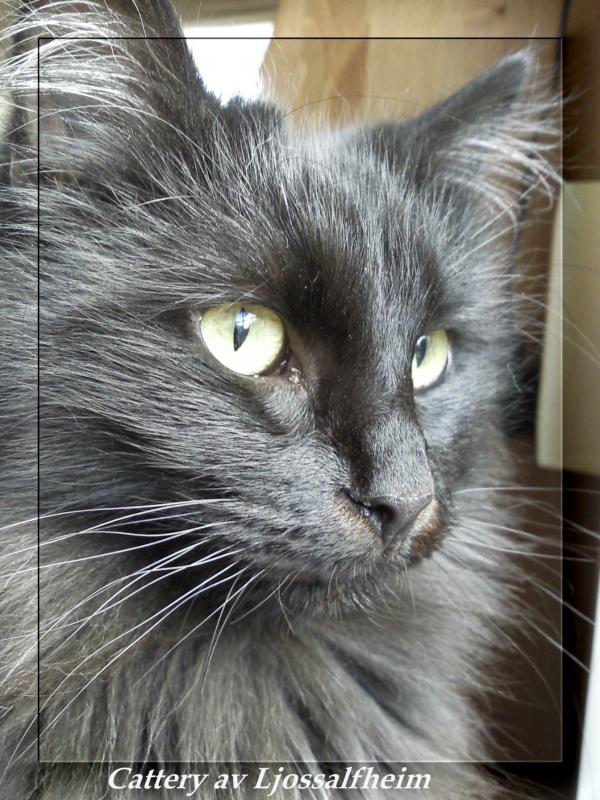 K754 - Pyruvatekinase Def. - Date of test: 25.09.2015
Testresult: NORMAL
K751 - GSD Type IV - Date of test: 25.09.2015
Testresult: NORMAL
K793 - Bloodtyping (DNA) - Date of test: 25.09.2015
Testresult: genotype N/N
K762 - rdAc-PRA - Date of test: 25.09.2015
Testresult: NORMAL
K711 - PKD test - Date of test: 25.09.2015
Testresult: pkd1/pkd1
K799 - HCM3 - Date of test: 25.09.2015
Testresult: NORMAL
K725 - HCM1 Test - Date of test: 25.09.2015
Testresult: NORMAL
HCM / PKD scan Normal
Fiv / Felv free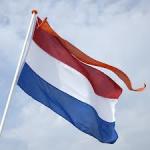 Lunatic, geen andere naam dan deze past beter bij onze kleine zwarte panter. Ze heeft de allermooiste ogen die je je maar kunt voorstellen. Toen Luna bij ons kwam was zij echt een lelijk klein eendje. Daarbij was ze extreem onhandig maar zo ontzettend lief. Lief naar onze oudjes, lief tegen ons en de honden en waar het om ging, lief voor Lotte. Wij waren meteen dol op haar en zij op ons allemaal maar op ons Lotje in het speciaal. Lotte en Luna, Luna en Lotte. Een onafscheidelijk duo, vanaf het allereerste begin.
Lelijke eendjes hebben de neiging uit te transformeren naar prachtige zwanen. Zo ook onze Luna. Zij is uitgegroeid tot een heel erg mooi prinsesje met zeer uitgesproken Noorse Boskat kenmerken. Op haar eerste show had zij dan ook meteen haar eerste CAC te pakken.
Luna is vrij van HCM en PKD. Ook de uitslag van haar Fiv/Felv test was goed. GSD4 en PKDef moeten nog getest worden.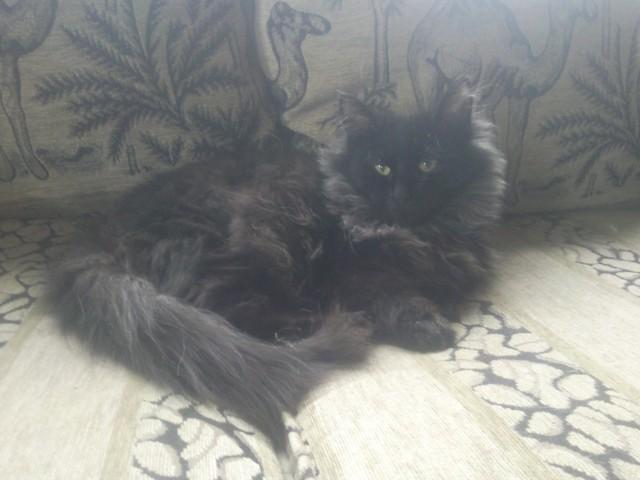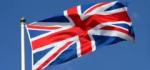 Lunatic, no other name can describe her better. Our little black panther with the most beautiful eyes you can ever imagine. When Luna entered our lives she was just an ugly little duckling and clumsy as can be. But she was so sweet. To us, to the old cats, to the dogs and to Lotte. We instandly loved Luna and she loved us back equally or more. Lotte and Luna, Yin and Yang.
Ugly little ducklings tend to transform into beautiful swans. Our Lunatic has grown into a gorgeous princess too with tremendously good Norwegian characteristics.
Luna has been tested for HCM, PKD & Fiv / Felv. She is declared healthy on all accounts. GSD4 and PK def will be tested in future.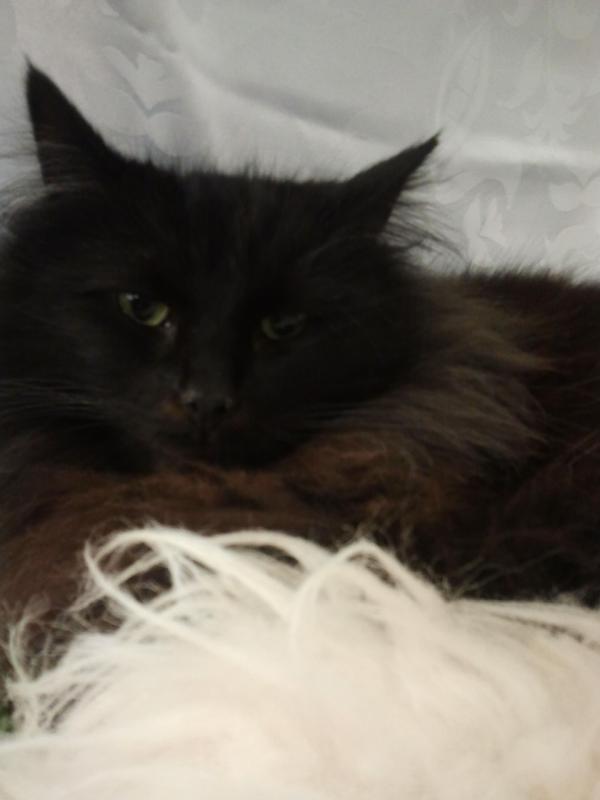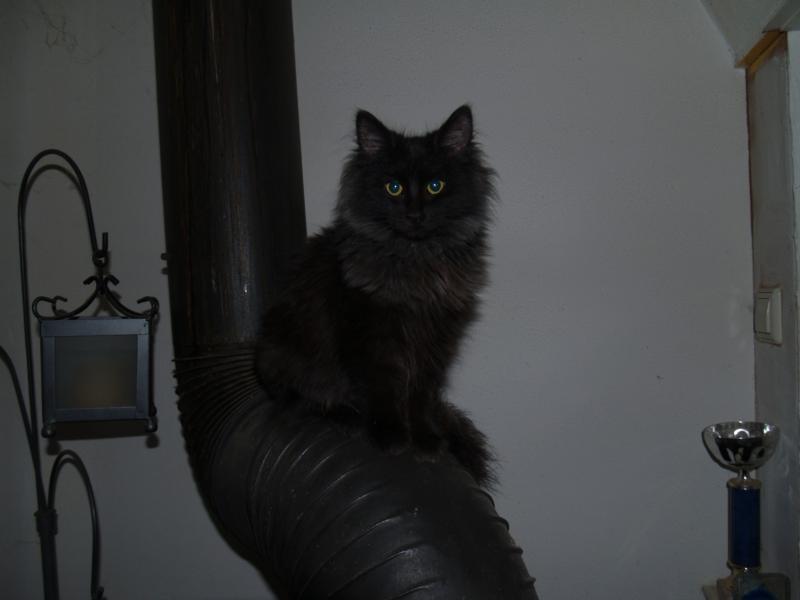 Lunatic, kein Name beschreibt sie besser, unseren schwarzen Panther mit den schönsten Augen der Welt. Als Luna zu uns kam, war sie wirklich ein hässliches kleines Entlein. Darüber hinaus war sie extrem umständlich, aber so süß. Wie liebten sie sofort, genauso wie sie uns, Lotte jedoch wurde wie erhofft ihr Liebling.

Hässliche Entlein werden oft zu wunderschönen Schwänen. Auch unsere Lunatic hat sich in eine schöne Prinzessin verwandelt mit den typischen Charakteristiken einer Norwegerin. An ihrer ersten Ausstellung bekam sie auch gleich ihren ersten CAC.

Luna ist frei von HCM, PKD, Fiv und Felv.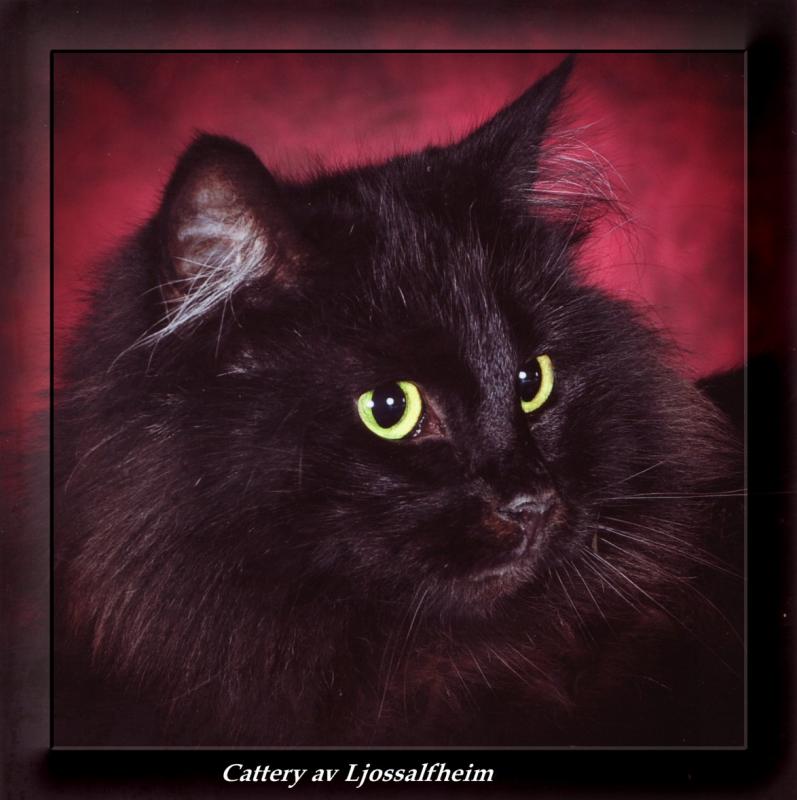 Our Lovely Luna is now a Champion too. Since Neocat (FNK) does not accept 2 certificates gained on 1 day Luna has a total of 5 CAC certificates.
| | | | | |
| --- | --- | --- | --- | --- |
| 2016 | | | | |
| | | | | |
| | | | | |
| August, 20 | Leipzig | Felidae e.V. | John Peters (NL) | CAGCIB BIV |
| August, 20 | Leipzig | Felidae e.V. | Peter Vestjens (NL) | CACIB |
| Februari, 28 | Heinenoord | NLKV | M. Jarmuszewski (P) | CACIB |
| Februari, 7 | Hannover | Felidae e.V. | John Peters (NL) | CACIB |
| | | | | |
| 2014 | | | | |
| | | | | |
| December 7th | Bremen | Felidae e.V. | Petra Petermann (DE) | CAC |
| December 7th | Bremen | Felidae e.V. | Edith Treml (DE) | CAC |
| December 6th | Bremen | Felidae e.V. | Tino Keltsch von Bruck (DE) | CAC |
| December 6th | Bremen | Felidae e.V. | José Weerts (BE) | CAC |
| | | | | |
| 2013 | | | | |
| | | | | |
| March 3th | Baarn | NLKV | C. Kleinendorst (NL) | CAC |