Gr. Eur. Ch. Ainur av Ljossalfheim, Gr. Eur. Ch. Fritz the Cat pa Elgsporet x Ch. Bémimi's Lunatic
NFO a23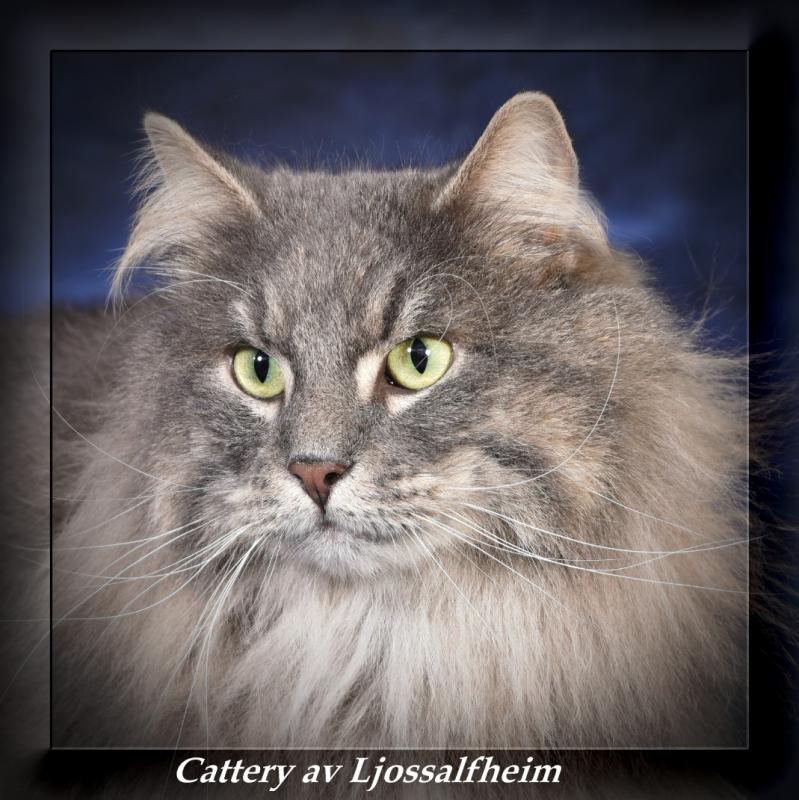 K754 - Pyruvatekinase Def. - Date of test: 25.09.2015
Testresult: NORMAL
K751 - GSD Type IV - Date of test: 25.09.2015
Testresult: NORMAL
K793 - Bloodtyping (DNA) - Date of test: 25.09.2015
Testresult: genotype N/N
K762 - rdAc-PRA - Date of test: 25.09.2015
Testresult: NORMAL
K711 - PKD test - Date of test: 25.09.2015
Testresult: pkd1/pkd1
K799 - HCM3 - Date of test: 25.09.2015
Testresult: NORMAL
K725 - HCM1 Test - Date of test: 25.09.2015
Testresult: NORMAL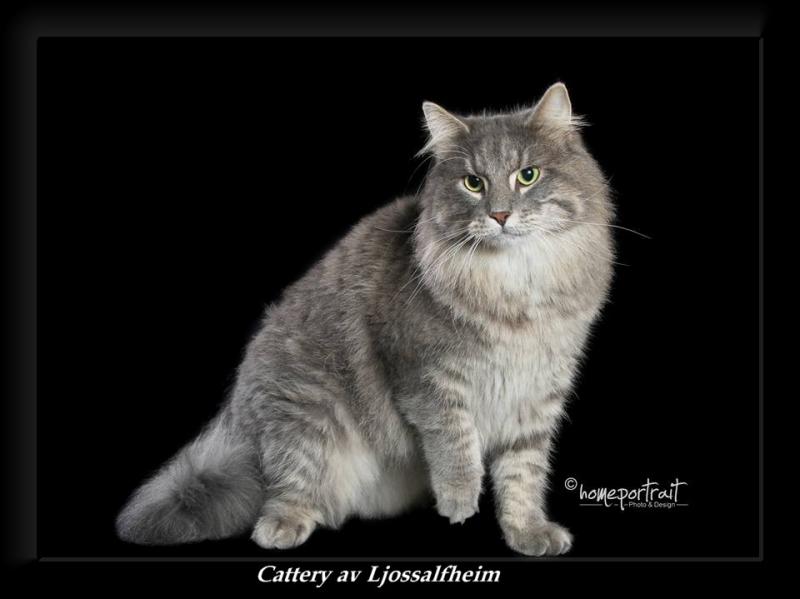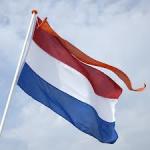 Ainur mijn lieve mooie vriendje en eerst geborene binnen onze cattery. 3 weken lang heb ik hem dag en nacht om de 2 uur moeten voeren. Zijn mamma had toen niet voldoende melk voor hem. Grappig is dat Luna daarna wel melk is gaan geven en dit tot halverwege december heeft volgehouden.
Op Ainur heb ik veel reacties gehad. De meesten uit Nederland maar ook uit het buitenland. Het idee echter om hem te laten gaan brak mijn hart. Toen kwam Marian uit het Oosten van het land. Terwijl haar man en kinderen in de weer waren met de kleintjes nam zij Ainur als een baby in haar armen. Daar was een match. Haar had ik hem gegund. Echter van haar hebben we nooit meer gehoord. Dit is vaker gebeurd. Zelfs na het afgeven van de reserveringskosten.
Toeval bestaat niet dus kennelijk hoort Ainur gewoon bij ons.
Ainur is ondertussen al een aantal keer mee geweest naar shows. Daar wikkelt hij het publiek en de keurmeesters om zijn prachtige stevige poten. Wie het daarna waagt om diep in zijn ogen te kijken is verloren. Zo heeft hij al diverse nominaties verworven en prijzen gewonnen.
Ainur is zeer beperkt beschikbaar voor een buitendekking.
Voor meer foto's als kitten kijk bij kittens; a-nest.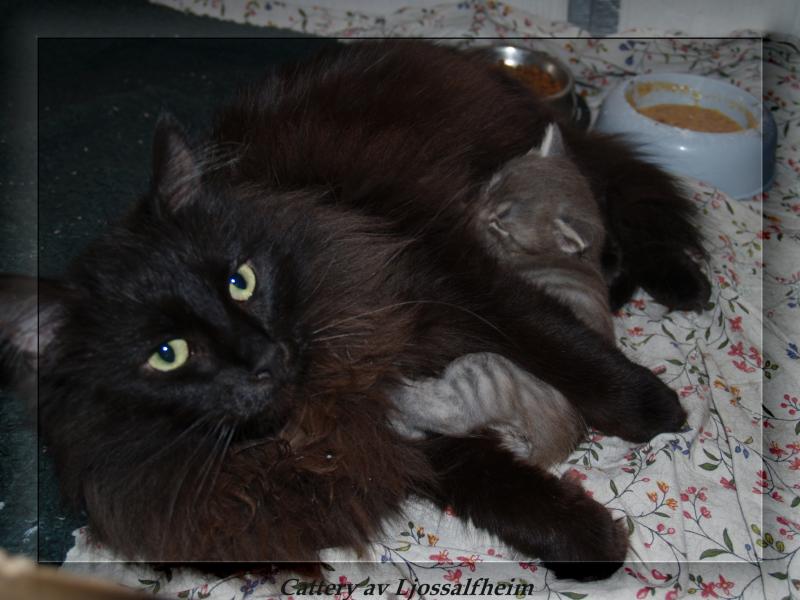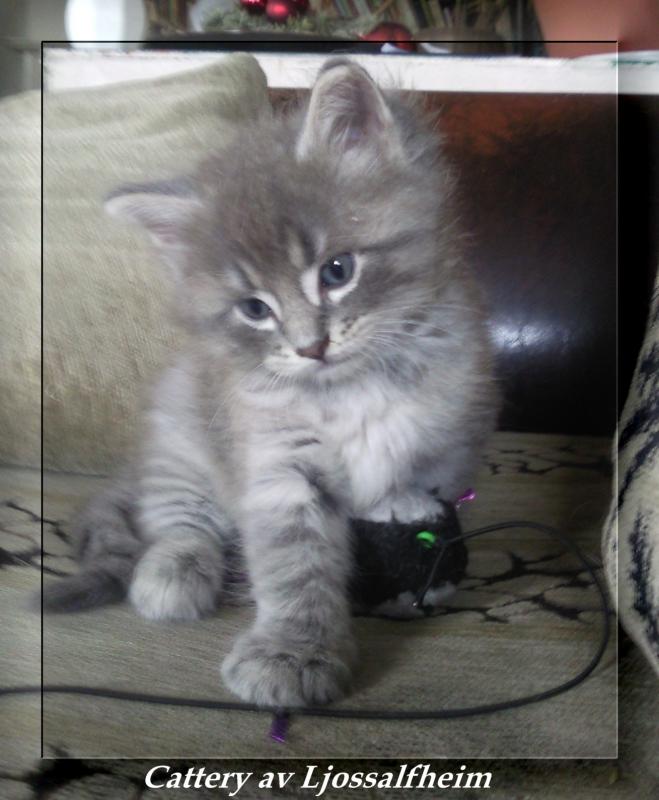 Ainur being my first born and a bottle baby is very special to me. He has a big part of my hart and is holding on very tightly. He is such a sweet and gentle giant. Ainur received a lot of fanmail from Holland and Abroad. For some reason hardly anyone could meet my standards. The ones who did were taken hostage by another kitten or were never heard of again. Since there are no coincidences I think Ainur should stay home where he belonges.
Ainur is available for an outside mating.
For more baby pictures klick on; A litter.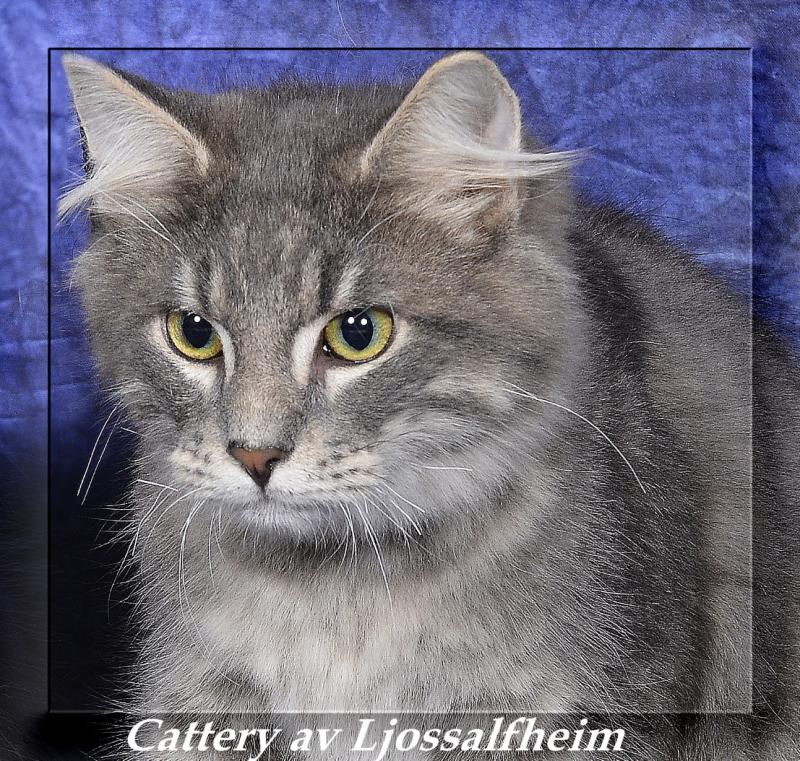 Ainur meine erste geboren und eine Flasche Baby ist etwas ganz Besonderes für mich. Er hat ein großer Teil meines hart und hält an sehr eng. Er ist so ein süßer und sanfter Riese. Ainur erhielt eine Menge Fanpost aus Holland und im Ausland.
Aus irgendeinem Grund könnte kaum jemand meine Standards zu erfüllen. Diejenigen, die der würdig sein wurden als Geiseln genommen von einem anderen Kätzchen oder nie wieder gesehen. Da es keine Zufälle gibt Ich denke Ainur sollte zu Hause bleiben, wo er hingehört. Ainur ist begrenzt verfügbar für vremddeckungen.
Weitere Babybilder klickt auf; A Wurf.
| | | | |
| --- | --- | --- | --- |
| Shows 2016 | | | |
| | | | |
| July, 3 | ECA, Westerlo | P. Moormann | Excelent 1, CACM |
| | | | |
| June, 5 | Felidae, Hamburg | Piet Peters, NL | Excelent 1, CACM |
| | | | |
| April, 17 | NVVK, Rotterdam | M. Jarmuszewski, PL | Excelent 1, CACM |
| | | | |
| Ainur is now a | Great European | Champion | |
| | | | |
| April, 3 | Neocat, Dalfsen | K. du Plessis | Excelent 1, CAGCE Nom BIS |
| | | | |
| February, 28 | NLKV, Heinenoord | P. Moormann | Excelent 1, CAGCE |
| | | | |
| February, 14 | BCF, Turnhout BE | D. Heyninck, BE | Excelent 1, CAGCE |
| | | | |
| February, 7 | Felidae, Hannover | J. Peters, NL | Exc 1, CAGCE, BIV |
| | | | |
| January, 24 | Neocat, Houten | G. Voorhout, NL | Excelent 1, CAGCE |
| | | | |
| Ainur is now a | European Great | International | Champion |
| | | | |
| January, 10 | ECA, Berchem BE | A.M. Voorhout, NL | Excelent 1, CACE |
| | | | |
| | | | |
| Shows 2015 | | | |
| | | | |
| December, 6 | Felidae, Bremen | Jose Weerts, BE | Excellent 1, CACE |
| December, 5 | Felidae, Bremen | John Peters, NL | Excellent 1, CACE |
| November, 28 | CCG, Fürth | Thomas Probst, DE | Excelent 1, CACE |
| | | | |
| Ainur is now a | Great | International | Champion |
| | | | |
| November, 28 | CCG, Fürth (DE) | Fr. Laszlo, HU | Excelent 1, CAGCI |
| September, 27 | Felidae, Paaren | Piet Peters, NL | Excelent 1, CAGCI |
| | Glien (DE) | | |
| April, 12 | NVvk, Rotterdam | P. Vestjens, NL | Excelent 1, CAGCI |
| | | | |
| Ainur, 1 year and 2 days | our youngest.... | International | Champion! |
| | | | |
| March, 22 | Neocat, | S. de Boer, NL | Excelent 1, CACIB |
| | Veenendaal | | |
| March, 1 | NLKV, Eindhoven | John Peters, NL | Excelent 1, CACIB, BIV |
| Februari, 14 | Felidae, Hannover (DE) | John Peters, NL | Excelent 1, CACIB |
| | | | |
| Our Ainur is now | our youngest | Champion! | |
| | | | |
| Februari, 14 | Felidae, Hannover (DE) | Petra Petermann, DE | Excelent 1, CAC |
| Februari, 8 | BCF, Turnhout (BE) | Leslie Wal, NL | Excelent 1, CAC |
| Januari, 25 | Neocat Worldshow, Houten | N. Hofman, NL | Excelent 1, CAC |
| | | | |
| | 2014 | All shows for fun and learning. | |
| October, 26 | NLKV, Tiel | Leslie Wal, NL | Excelent 1 |
| September, 28 | Neocat, Nijmegen | Renate Leijen, NL | Excelent 1, BIV |
| September, 7 | Felidae e.V. Dusseldorp (DE) | Jurgen Trautman, DE | Excelent 1, Nom BIS |
| September, 7 | Felidae e.V. Dusseldorp (DE) | Edith Treml, DE | Excelent 1, Nom BIS |
| | | | |
| | | | |