Ch. Suzeley Jo's Esperanza, ♀ Dhalia von Ashna x ♂ Duck de Ramatuelle
NFO w 64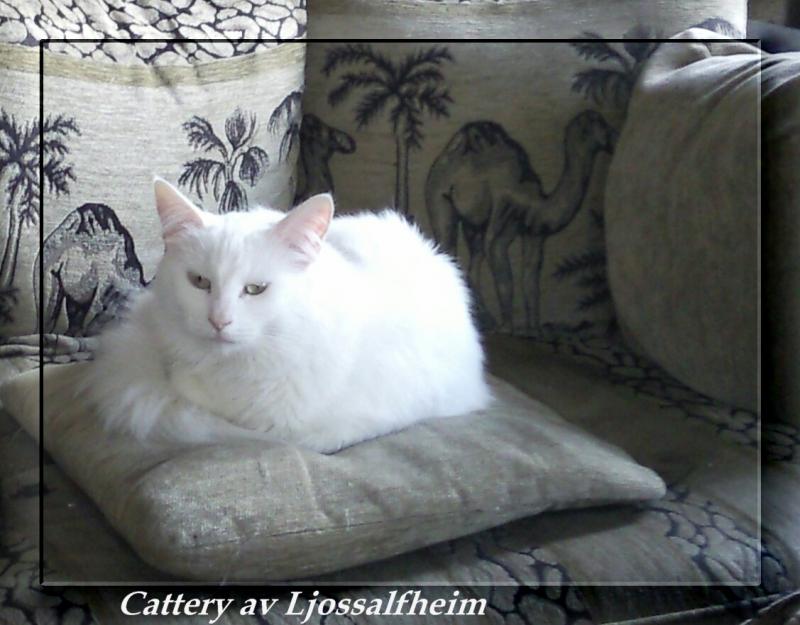 K754 - Pyruvatekinase Def. - Date of test: 25.09.2015
Testresult: NORMAL
K751 - GSD Type IV - Date of test: 25.09.2015
Testresult: NORMAL
K793 - Bloodtyping (DNA) - Date of test: 25.09.2015
Testresult: genotype N/N
K762 - rdAc-PRA - Date of test: 25.09.2015
Testresult: NORMAL
K711 - PKD test - Date of test: 25.09.2015
Testresult: pkd1/pkd1
K799 - HCM3 - Date of test: 25.09.2015
Testresult: NORMAL
K725 - HCM1 Test - Date of test: 25.09.2015
Testresult: NORMAL
Baer: Normal
HCM / PKD scan Normal
Fiv/Felv Free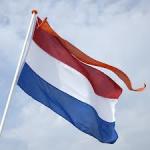 Esperanza, de eerste keer dat ik haar zag sloeg mijn hart een slag over. Wat een prachtige ijsbeer. Helaas rende ze heel snel voorbij om zich te zo snel mogelijk te verstoppen in een krabpaal. Marja, haar vorige baasje was om die reden dan ook op zoek naar een nieuw thuis voor haar. Esperanza kon het namelijk niet goed vinden met haar (schijn) Heilige Birmaan kater. Omdat ze Esperanza een beter leven gunde mocht ik haar meenemen.
De eerste paar dagen heeft Esperanza het bij ons ook best moeilijk gehad. Alles was eng en het liefst bleef ze de hele dag in haar reiskooi. Gelukkig hebben wij Flitz en Flitz was het totaal niet eens met dat rare idee van haar. In zijn jeugdig onschuld zocht hij haar continue op. Hij probeerde met haar te spelen. De hele dag zat hij in, naast, voor of op de reiskooi te spelen met het openstaande deurtje. Uiteindelijk vond Esperanza het genoeg en gaf haar isolement op om vervolgens het hele huis en onze harten te claimen.
Ik ben zo blij dat Esperanza bij ons is komen wonen. In de mailwisseling staat nog zo duidelijk. Esperanza is lief maar beslist geen schootkat. Bij ons bewijst Essie het tegendeel. Waar wij zijn is Es. Of op schoot, op je schouder of vlak naast ons.
Terwijl ik dit stukje aan het typen ben ligt Esperanza op de rugleuning van mijn stoel en probeert Flitz haar staart te vangen.
Esperanza is bij Cattery Suzely Jo's geboren en daar heeft zij ook de Baer test ondergaan. Cattery De Vignolo heeft ivm Esperanza's eerste nestje in 2011, getest op Fiv / Felv en op GSD4. Helaas zijn de test uitslagen nog steeds niet naar ons opgestuurd. Fiv en Felv hebben we uiteraard opnieuw laten testen. Dit gaat ook gebeuren met de GSD4 test. De testen op HCM, PKD en PK def staan ook al in de planning.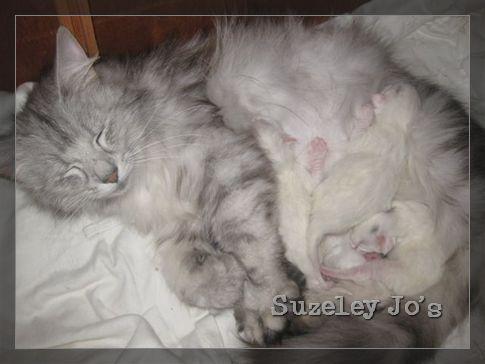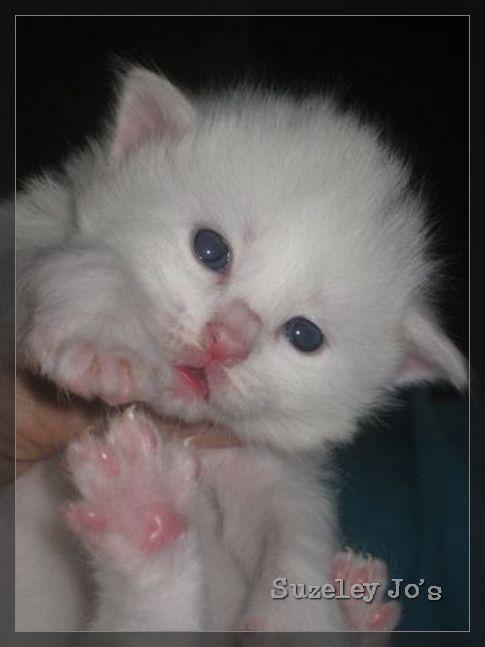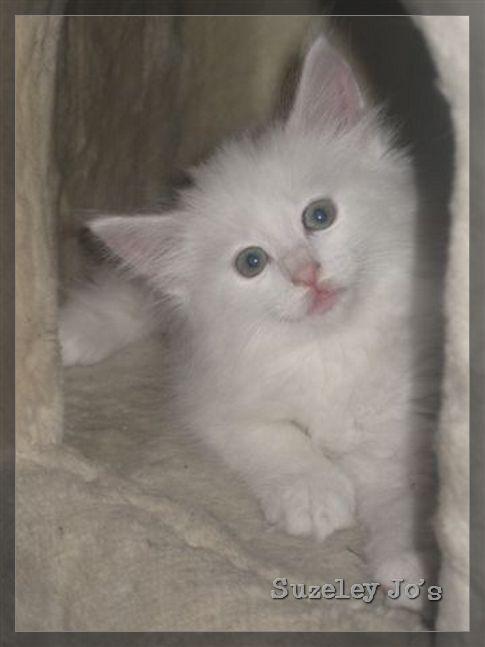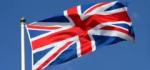 Esperanza, the first time I saw her, my heart skipped a beat. This perfect little icebear was so beautiful. Saidly she ran by very quickly. Esperanza was up for adoption because she didn't agree with her housing conditions. Marja her previous owner wanted to keep her but she also wanted Esperanza to enjoy her life more. Esperanza was bullied by one off the other cats and did not fit in at all. So Marja granted Esperanza a new start with a new family.
The first days were hard but within the first week Esperanza started to claim her new house. She had to because our Flitz lured her out of her seclusion. Esperanza could not ignore him and became more confident by the hour. Now she is no longer living in the shadows but a big part of our family. She is sweet and loving. Always near by or on our lap. I love this sweet polarbear so much.
While I am typing this she is on the back of my chair and Flitz is trying to catch her tail.
At Suzely Jo's Cattery Esperanza past the Baer test. Vignolo cattery tested our sweetheart on Fiv / Felv and GDS 4 because of her first litter in 2011. Regretfully the tests results are still not received by us and so we are testing her again. Esperanza was declared free off Fiv and Felv. HCM, PKD, GSD4 and PK def are sceduled.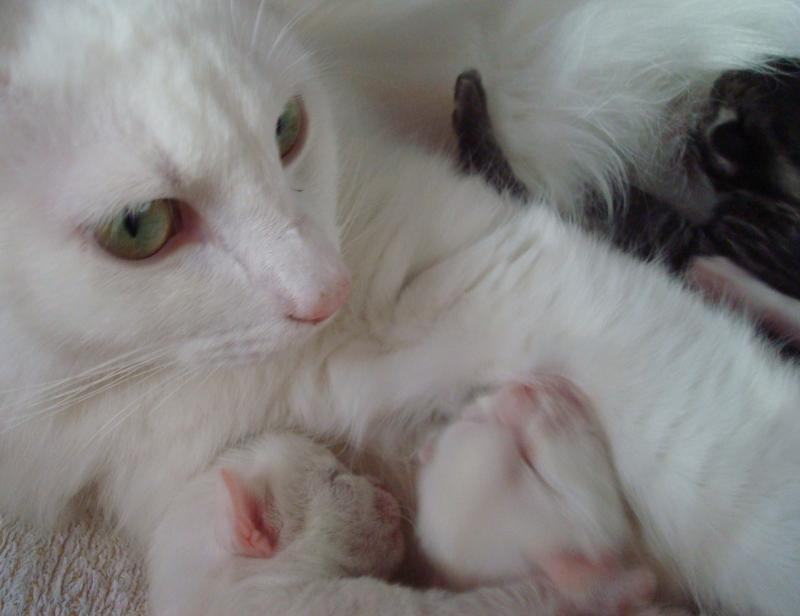 Esperanza war Liebe auf den ersten Blick. Diese perfekte kleine Eisbärin war so schön. Sie wurde zur Adoption freigegeben, weil sie nicht mit ihren Wohnverhältnissen einverstanden war. Sie wurde von einer der anderen Katzen gemobbt und passte gar nicht in die Gruppe. Marja, ihre vorherige Besitzerin, wünschte ihr jedoch ein schöneres Leben und suchte ihr einen neuen Platz.
Die ersten Tage waren schwierig, doch nach einer Woche begann Esperanza ihr neues Zuhause zu erkunden. Unsere Flitz lockte sie aus ihrer Abgeschiedenheit, Esperanza konnte ihn nicht ignorieren und wurde mit jeder Stunde selbstbewusster.
Jetzt ist sie nicht mehr im Schatten sondern ein wichtiges Familienmitglied.
Das Baer Test war gut, und Esperanza ist frei von Fiv und Felv. HCM, PKD, GSD4 und PKdef Tests werden später in diesem Jahr getestet.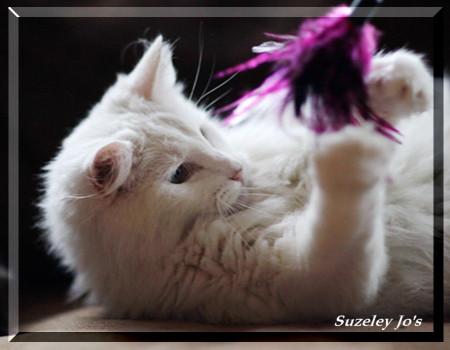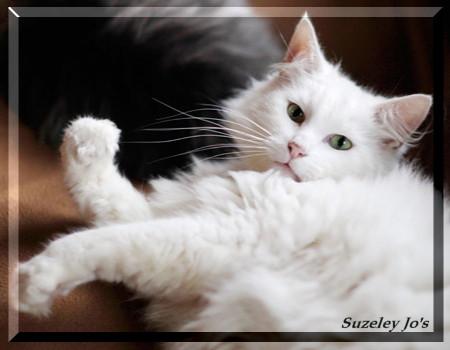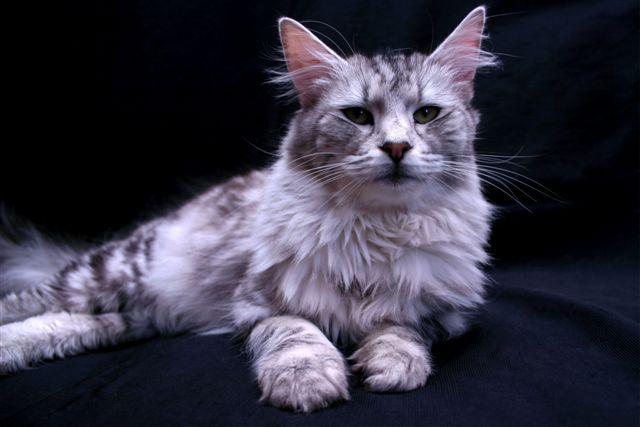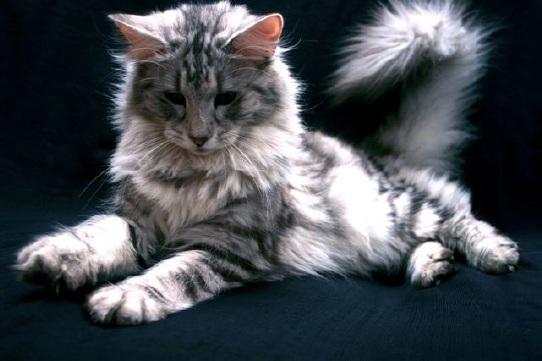 Esperanza is now an International Champion and will be excused from shows.
| | | | |
| --- | --- | --- | --- |
| 2015 | | | |
| | | | |
| Januari 11th | ECA, Berchem, (BE) | Sven Malz (DE) | Excelent 1, CACIB |
| | | | |
| 2014 | | | |
| | | | |
| December 7th | Felidae e.V. Bremen (DE) | Petra Petermann (DE) | Excelent 1, CACIB |
| December 7th | Felidae e.V. Bremen (DE) | Peter Vestjens (NL) | Excelent 1, CACIB |
| December 6th | Felidae e.V. Bremen (DE) | Tino Keltsch von Bruck | Excelent 1, CACIB |
| December 6th | Felidae e.V. Bremen (DE) | Edith Treml (DE) | Excelent 1, CACIB |
| | | | |
| We are so proud | Esperanza | became our first... | Champion! |
| | | | |
| March 30th | NVvK, Gouda | Diana Neubauer (DE) | Excelent 1, CAC |
| February 23th | NLKV, Leiderdorp | John Peters (NL) | Excelent 1, CAC |
| January 26th | Neocat, Houten | Arlette Maes (BE) | Excelent 1, CAC |
| | | | |
| 2013 | | | |
| | | | |
| April 14th | NVvK, Hoogvliet | Ineke de Groot (NL) | Excelent |